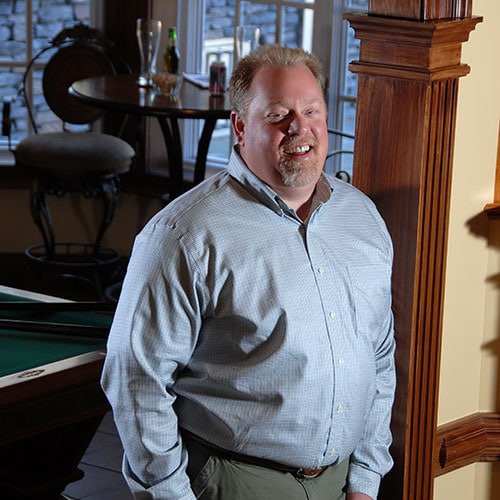 Zack Rothrock loves his job. In fact, calling it a job doesn't do his career justice. As owner of Rothrock Renovation & Remodeling, Zack has found his calling. Every day he gets a chance to help people realize their dreams by creating new spaces for families to gather, whether it's by renovating and existing room, building a new area or constructing a new home. Through it all he gets a chance to share his talents and make new friendships.
Lifelong Love of Building
Zack has held a general contractor's license since 1985, but his work with construction began long before that. Both Zack's father and grandfather were builders, so he grew up on their work sites, helping where he could and learning from them along the way.
"When I graduated from West Forsyth High School, Dad offered to send me to college anywhere I wanted to go, but I knew what I wanted to do, and that was construction," Zack says. So Zack graduated on Saturday, and on Monday he was right back at work, having gotten a job with one of his father's friends in the business who has a team of carpenters on staff. "It's something I've always enjoyed," Zack says. "I grew up in the industry, and knew I wanted to stay in it."
Hands-On Experience
Zack's years of experience help make him a well-rounded general contractor. "That first job out of high school was a valuable one," he says. "They didn't just do carpentry work, they also did ceramic tile, installed counter tops, put on roofs, just about everything. It really enabled me to learn a lot of hands-on stuff."
Not only did Zack learn how to build and install almost everything in a home, he's also had a lot of experience working with different types of materials and appliances. This hands-on experience helps enhance the services provided through Rothrock Renovation & Remodeling. He can give recommendations to clients about materials with first-hand knowledge of how they will work out in a project. And his time spent wielding his own hammer means he's able to trouble shoot on work sites, understand how long things will take in order to make realistic schedules, and even lend a hand when necessary.
Passion for People
Zack likes to say that Rothrock Renovation & Remodeling is a family oriented business, and that philosophy helps make his and his team's work stand out in the community. Not only does Zack love building and creating new things, he also loves people. He treats everyone who works with Rothrock Renovation & Remodeling like family, and spends time getting to know each client. "We build for neighbors, who become friends," Zack says. That dedication to communication and building relationships helps Zack get to know a client during the building or remodeling process, which helps ensure that the project will go like the client wants and the finished product is something everyone is happy with.
A Family Man
It's easy for Zack to treat his work family with such respect because he has such strong family values himself. He and his wife Camille have been married 22 years, and raised two children, son Aaron and daughter Morgan. Aaron now has a son of his own, 3 year old Colton, whose energy inspires the entire family.
When you work with Zack and Rothrock Renovation & Remodeling, you know you're working with a man and team you can trust.