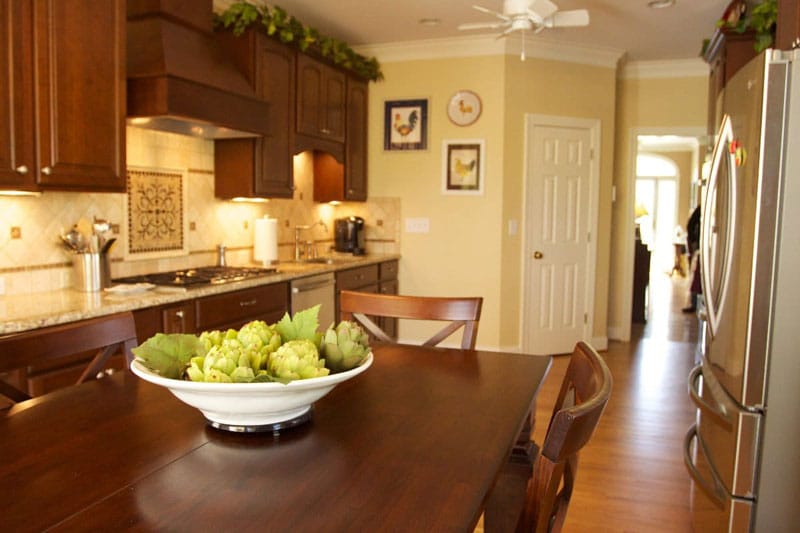 Over the years, our team at Rothrock Renovation & Remodeling has done countless kitchen remodels for clients all over Winston-Salem and the surrounding area. The kitchen is where meals are prepared and shared, homework gets done after school, and late-night conversations are held over a cup of coffee. It truly is the heart of the house. That's why it's always exciting when we get a chance to work with a family to make this important room of the house even better by opening up space, updating appliances and creating an environment the whole family can enjoy.
Even with all the excitement and improvements that come with a kitchen remodel, there is a downside. In order to get that wonderful, up-to-date kitchen you've always dreamed of, you have to do without a kitchen for a while. While we try to plan ahead and do what we can to make the time without a kitchen at all as short as possible, we usually tell clients to allow for at least 4-6 weeks without a working kitchen. Luckily, with a little planning, preparation and creativity, you can find a way to keep your family fed for three meals a day even without the traditional kitchen. Just prepare to be flexible, and keep your focus on the fact that in a matter of weeks you'll be enjoying home-cooked meals in the kitchen of your dreams!
Here are a few tips to make the most of your time without a kitchen that we've learned over the years:
Set up a temporary kitchen.
It's a good idea to find a room where you can move the refrigerator and other essential appliances, such as the coffee pot and the microwave. If you have a garage or mudroom with a utility sink and some counter space, that is ideal. But we've seen successful temporary kitchens set up in the dining room or the kids' play room, anywhere with some good electrical outlets will work.
Stock up on disposables.
Even if you're a household that doesn't currently depend on a dishwasher, you'll find it easier to use disposable plates, cups and utensils during your remodel than trying to wash everything in the utility sink or the bathtub. There are great resources for environmentally friendly products, such as Green Paper Products.
Make-ahead meals.
Before you're without a kitchen, spend some time fixing make-ahead dinners that you can freeze in individual portions for easy re-heating in the microwave. Things like lasagna, enchiladas or the potluck favorite chicken casserole are a few good ideas.
Make use of your slow cooker and pressure cooker.
Do you have a Crock Pot or Instant Pot sitting on your counter collecting dust? This is the perfect time to get them out, plug them in and start experimenting with new recipes. The great thing about both of these appliances is they're relatively small and they're perfect for making one-pot meals. It's a great way to have a hot meal for the family that's not something re-heated in the microwave. Here are a couple of sources for recipes:
The Country Cook's Most Popular Crock Pot Recipes
Find a good delivery service.
Eating out for every meal can get expensive, but there are times when the convenience outweighs the expense. Check out some of the local delivery services such as Take Out Central and Grub Hub to help get you through the nights when you just can't stand to wash another pot in the bathtub.
Now that you know the best way to make it through a kitchen remodel, it's time to think about your kitchen's update. Call our team at Rothrock Renovation & Remodeling today for a consultation.