1. Consultation
Our relationship begins with a consultation either at our office or your home to review your project.
2. Pricing
We provide fixed (lump sum) pricing on all of our projects, so you know what you are writing the check for. We never use "cost plus" or "time and material" agreements. These agreements usually start out with a "ballpark" of what the job might run but rarely end up that way, leaving the customer over budget and sometimes out of money. These agreements are an open checkbook for the customer.
3. Design
If design work and drafting are required we present you with a design agreement or we are happy to work from your plans if you have them. We also have some conversation about budget at this point.
An initial design is generated
Specifications are communicated
Pricing begins
Final pricing and drafting of final plans
4. Contract
After a price is agreed upon you are presented with detailed written specifications, selections, and our construction contract.
5. Pre-Construction Meeting
Before construction begins we review all specifications and contract documents for clarity. 
You will also receive a schedule of how we see the project unfolding from start to finish.
6. Construction
We hand off the plans to our production crews. 
You are given updates from our office staff and the project is closely supervised. 
There could be jobsite meetings associated with your project such as mechanical layouts, etc. These meetings will be scheduled in advance for your convenience.
7. Finishing Touches
The last thirty days are the most critical. This is the time that our staff goes over every inch of your project to ensure everything is complete.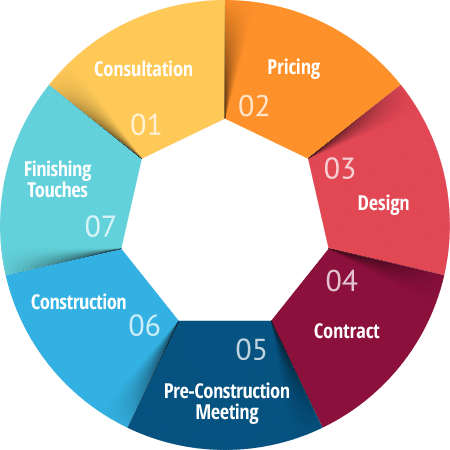 Our Design-Build Approach
At Rothrock Renovation & Remodeling, our goal is to complete your remodeling or renovation project not only by meeting your expectation, but to create a space that you'll enjoy for many years to come. Our customers and clients in the Winston-Salem area have come to appreciate our emphasized communication. We strive to build long-lasting relationships with our clients, working with our unique design-build approach that helps every home remodeling and renovation project flow seamlessly from start to finish.
Our design-build approach takes out the traditional bidding process of construction jobs, eliminating all of the guesswork and giving our clients a clear picture of all expected costs, right from the start of the remodeling project.
. . .
Fixed Price
With design-build projects, you're given a fixed price from the beginning. This allows clients to be able to create a budget or apply for a loan without worrying about accruing overages and added costs.
. . .
Open Communication
Coming up with a budget means figuring out costs of materials for the entire project at the beginning. This is done through a lot of conversation up front to determine what you want with your remodel, and keeping the lines of communication open throughout the job to make sure everyone is satisfied with the results.
. . .
Integrated Design and Construction
An additional aspect of the design-build approach is that the contractor serves a dual role of designer. Our expertise in the field of remodeling comes into play as our team advises clients on types of materials and construction options during the initial design process.