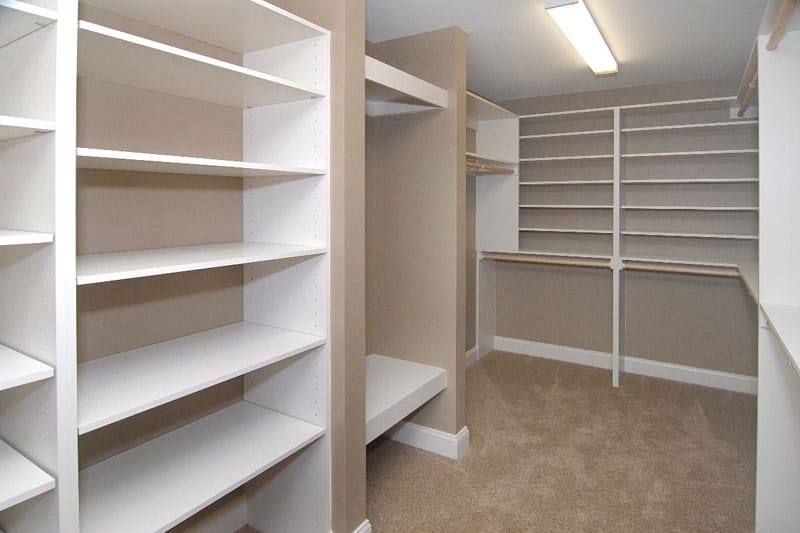 Have you found yourself struggling to hang a winter coat in a closet filled with summer dresses? Is your husband forced to go to the guest room each morning to get clothes for the day, because your "his" and "hers" closets are reach-in closets in two separate rooms? Let's face it, we all have a lot of stuff. Winter clothes and summer clothes, sleeping bags, photo albums, and luggage — all things that we use at some point but need a place to put them away when not in use. Walk-in closets, which used to be viewed as a luxury amenity in homes, have now become a standard feature of new homes. They provide the extra storage space necessary for today's homeowners in a way that's welcoming and inviting and not stuffed up and reminiscent of a hoarder.
If you live in or are considering purchasing an older home, don't let the lack of closet space turn you away from the home of your dreams. With a closet addition or renovation by the experienced team at Rothrock Renovation & Remodeling, you can experience life in that rustic farmhouse or stately columned home in the historic district and still enjoy the benefits a walk-in closet brings.
Walk-in closets aren't just a practical upgrade, they're also a smart investment in your home. The cost of a renovation or addition will depend on the size of your closet and the materials you choose, but average costs range between $2,000 and $6,000. This is one home upgrade where you're likely to see up to 100% return on your investment. Walk-in closets are an expectation for today's home buyers, so adding one to your home immediately increases your home's value.
Options Abound
When it comes to adding a walk-in closet to the master bedroom, there are a couple of options to choose from as far as placement. Some people choose to enlarge an existing closet, turning a reach-in into a walk-in by using space in an adjoining room. You can create a new space entirely by building a closet within the existing bedroom. Or you could incorporate another area altogether into the master suite, knocking out a wall between the bedroom and an adjoining office or spare bedroom and turning that space into a luxurious closet.
During the planning stages, it's important to consider current framing and structural support in the house. This is where it's a good idea to bring in an experienced builder, and we can help you understand the existing structure of your home and find the perfect place to build a new walk-in closet.
Size Matters
You may be tempted to dream big when it comes to designing a walk-in closet, but it's just as important to keep your new closet in proportion to the existing house as it is to build a place with enough space for your stuff. When thinking about size, consider whether you want a closet with space for hanging on both sides and the ability to walk in between, or if you want a bigger closet with his and hers dressing areas and room for a vanity in between.
Construction Considerations
Adding a walk-in closet consists of more than just knocking out a wall and installing a few hanging rods. While this isn't a large renovation project, you'll still need to be prepared for the dust of drywall during construction. You will also need to consider things like ventilation and lighting when creating your plan.
Finishing Touches
What you choose to furnish your closet can make a big impact on the aesthetics as well as the organization of the finished product. There are a lot of great options to choose from when it comes to fixtures and custom additions, from melamine rods and shelves to wooden cabinets and cedar accents. You'll want to consider two things when choosing your fixtures: your budget and your space. The amount of money you're able to spend will help you figure out whether you can spring for the custom-built cabinetry or stick with the melamine shelves. Your space will help when choosing what types of organizers to buy, whether you need hanging rods, shelving to take advantage of vertical space, or customized fixtures for shoes or storage.
If you're interested in building a new closet in your home, or enlarging an existing one to add storage space, contact our team at Rothrock Renovation & Remodeling. We can help you design a space that will fit your home's overall look and serve your needs for years to come.