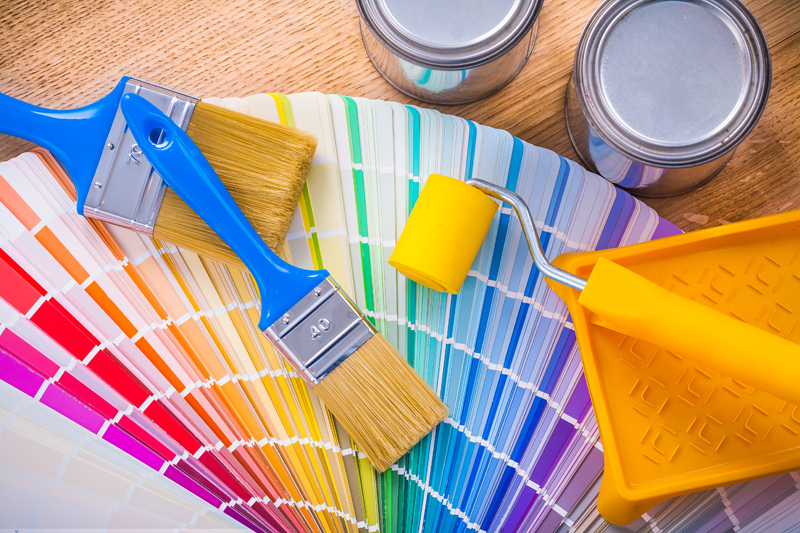 If you're looking for a way to update your home's décor, putting on a fresh coat of paint can make a big impact. For one thing, if it's been a few years since you last painted, you might not notice how drab your walls have become. Years of living adds dirt and grime to the surface of your house, and putting on a fresh coat of paint can brighten things back up (and hide all those handprints from your kids who are now in homes of their own).
Painting is also a good way to give your home some style. Maybe you moved into a house that had been painted all neutral colors to make it more attractive to sellers, or maybe you have cranberry-colored walls in the dining room that scream 1990s every time you host a dinner party. Today's homes have a clean, crisp look. The browns and tans have been replaced with grays and white, or even soft lilac and green.
One thing I often have people ask me questions about is what type of paint to buy. Once you've decided on a color, you still have to choose a finish. Part of what paint you go with will depend on what room you're painting and how it will be used. Here's a quick look at the different types of paint finishes:
Matte. It's pretty easy to figure out the difference between matte and glossy, one has a dull finish while the other is shiny. But what exactly is a matte paint good for? Matte paints are the most common interior wall paint. The velvety texture does a good job covering imperfections, and there's no shine to distract from your wall hangings and other décor. One problem with matte paints is they are easily marked, so be sure to save some for touch ups.
Satin. This paint has a soft sheen, falling somewhere between a matte and a gloss. It's more durable than matte so it works well in areas where you need to clean the walls regularly, such as kitchens and bathrooms.
Eggshell. For a subtle shine without the smoothness of satin, people turn to eggshell. It's great in small spaces because it reflects the light, and doesn't highlight imperfections quite as much as satin.
Gloss. The high sheen on this paint makes it perfect for woodwork. Gloss paints are often the one chosen for trim and baseboards. They don't work as well on walls in part because the high-shine finish shows imperfections easily.
Semi-gloss. Still glossy but with less reflective ability than gloss paints, this type of finish is also usually found on trim and baseboards. Both gloss and semi-gloss paints are easy to clean, as they can be wiped down with soap and warm water.
If it's time to give your home an update, painting is a great place to start. But you might find you're in the market for even more, such as a bathroom update, a new bonus room, or some outdoor areas perfect for entertaining. Call the professionals at Rothrock Renovation & Remodeling for more ideas and suggestions to make your home a place to relax, entertain and enjoy life.